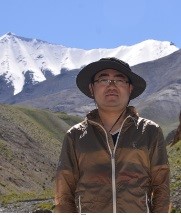 Name:Jiaxing Pang
Title: Lecturer&nbsp
Gender:male
Graduate College:Lanzhou University
Education:
Academic degree:
On-the-job information:Incumbency
Unit:
Initiation time:
Office location:
Mail box:pangjx@lzu.edu.cn
Learning Experience
2011.09-2016.06:  PhD, Human Geography, Lanzhou University
2007.09-2011-06:  Bachelor of Geography, Lanzhou University
Work Experience
2016.07-present:  Lecturer, College of Earth and Environment Sciences, Lanzhou University.
Courses
1.Principles of economics
2.Regional economics
Publications
1.Jiaxing Pang,Xingpeng Chen,Zilong Zhang,Hengji Li.Measuring eco-efficiency of agriculture in China[J]. Sustainability 2016, 8(4), 14408-14426.
2.Xingpeng Chen,Jiaxing Pang,Zilong Zhang,Hengji Li. Sustainability Assessment of Solid Waste Management in China: A Decoupling and Decomposition Analysis. Sustainability 2014, 6(12), 9238-9281.